Craft Beers
Our House Ales reflect great History.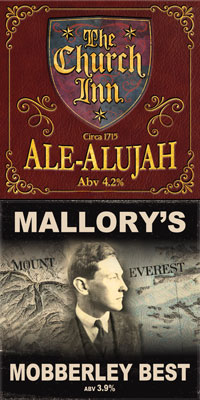 On opening the restored Church Inn it was decided that two house ales should be celebrated and enjoyed here. So thinking caps were applied and the first ale was named to recognise George Mallory the mountaineer who sadly perished on Everest and whose body was found as recently as 1999 preserved in the freezing conditions.
His father was Reverend at St. Wilfrid's Church opposite and George would climb the face of the St Wilfrids as a practice session for his more challenging endeavours.
It is said that he would leave a photograph of his wife at the top of Everest should he conquer the mountain. No one knows if he made it but there was no photo in his possession when he was finally found! So we can all assume he made it and sadly died on the way back.
He is truly one of Mobberley's most famous sons and we chose an excellent Brewery for his commemorative ale, Dunham Massey Brewery have given us their famous 3.9% abv ale, golden in colour and very quaffable indeed.
Our second house ale celebrates the re-opening of the historical Church Inn to the sound of shouts of "Allelujah!!!!" So the aptly named Ale'Alujah was brewed by Tatton Brewery.
Their fine 4.2% best Ale is a classic light amber coloured best bitter with a clean malt flavour and fine hop character derived from a blend of aroma hops.
It is a great tribute to the pub itself and its long heritage of pouring and serving great ales over the last 300 years.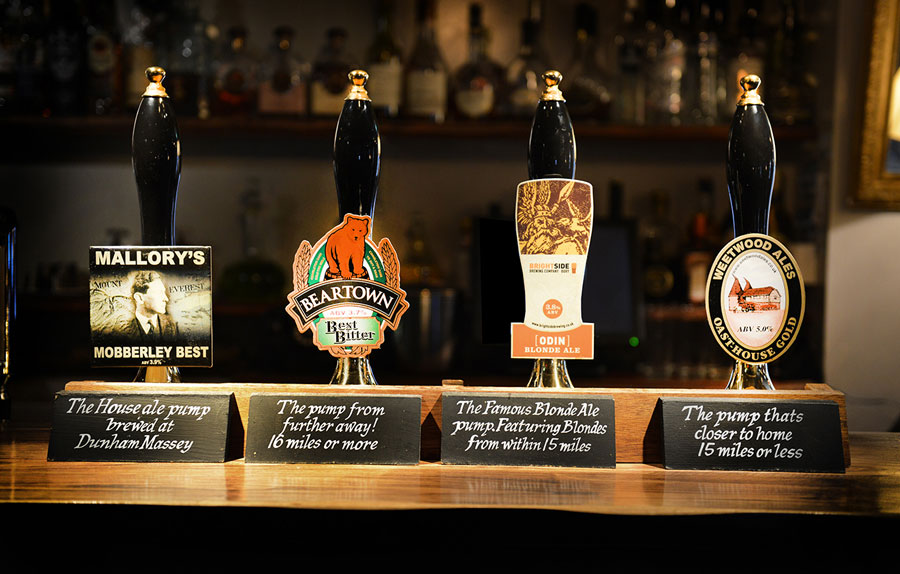 Craft Heritage Beers for You to enjoy
So the house ales will feature on a regular basis but there are further pumps which feature other guest ales. On the one hand, guest ales from within a 15 mile radius of the pub are featured including our most local brewer Mobberley Fine Ales who work from a farm round the corner. We have a 'Blonde' ale pump to for those that like the lighter lager-esque stlye brews all of which, once again, are from within 15 miles of the pub. Then there is a pump that showcases beers from further afield as well as a craft lager called Freedom Four from Staffordshire and the very English Titanic Stout from Stoke-on Trent.
There truly is something for everyone!! So pop in with the pet dog for a half or more and enjoy a drink in our boot room or our fire lit bar or sunny terrace in the summer.