Another great night in London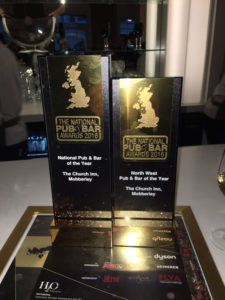 Tuesday 24th May is a special day indeed, it's the official anniversary of the Bulls Head re-opening in Mobberley 6 years ago, remarkably the very same date that the Roebuck re-opened yesterday after three and a half years of being closed and  now is the day Simon, our Church Inn landlord and co-owner Tim, headed to London to BAFTA in Piccadilly to see how the Church  Inn would do in the National Pub and Bar Magazine Awards.
The Church Inn had already being recognised as the best pub in Cheshire by the magazine a month or so ago.
Judges then had to visit the 94 county winners before the special evening at BAFTA hosted by journalist and Food Critic for the Observer, Jay Rayner.
The Regional Winners were firstly announced before the single National winner was declared.
The Church Inn scooped the Northwest and then as the Pubs Minister, Marcus Jones MP, joined Jay Rayner on stage, a hush fell around BAFTA as The Church Inn from the wonderful village of Mobberley was announced as the overall winner!!
Well done to the Church Inn team!!! Great recognition indeed. We don't profess to being perfect all the time, but we try really hard and care so much about trying to be perfect every time.. That's our constant goal, to please our guests!
Co-owner Mary couldn't be in London because of the Roebuck Inn opening. She was updated via texts as the good news unfolded and rushed to the Church Inn later to let the team know and get them a little glass of bubbly to celebrate their win.
Tim treated Simon to a much deserved meal at the Wolseley after the win.
Now it's back to Mobberley with the trophy and back to business as usual. Serving well and cooking well!