Church Inn recognised!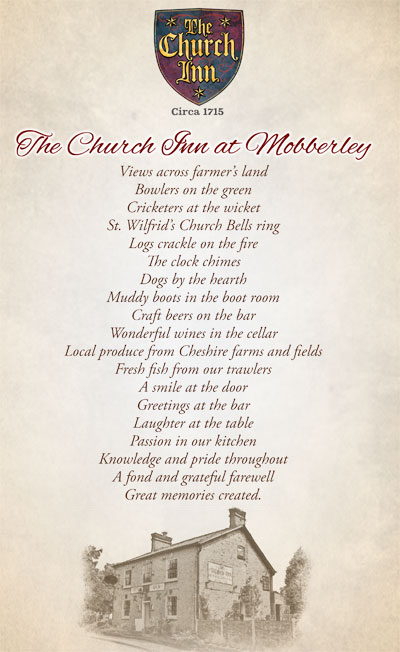 We are delighted to announce that our lovely Church Inn in Mobberley has been recognised as the UK's 'New Pub of the Year 2014-15' by the Good Pub Guide!
We re-opened the Church Inn just over a year ago following major restoration and refurbishment works. The Church Inn dates back to at least 1753 and we are proud of its standing in the village of Mobberley. There is plenty of history associated with the pub and this award recognises the efforts of many people.
We have to mention our landlord Simon, Head Chef Lloyd and the team who have endless enthusiasm and passion for the business and try their best at all times. Our customers who have supported the pub so well in its first year since re-opening. Our owners Tim and Mary who, despite owning the Bulls Head also in Mobberley, had the vision and courage to see the opportunity for a differentiated pub style so close to their already award winning Bulls Head and last but by no means least all our wonderful suppliers who have helped us achieve this award.
The award is for all the people associated with the Church Inn to celebrate, enjoy and raise a glass to.
Well done everyone!!!