Laura Trott's perfect weekend

LAURA TROTT became a household name by scooping two gold medals at her first Olympic Games in London in 2012. Here she opens up about her weekends and obsession for EastEnders.
Track and road cyclist Laura Trott OBE began her cycling career at the age of eight.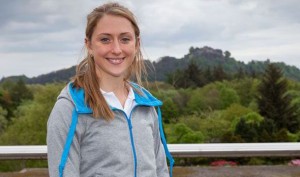 A four-time world team pursuit champion, she became a household name by scooping two gold medals at her first Olympic Games in London in 2012. More recently, she was crowned women's 2014 British Cycling Road champion. Laura, 22, will take part in the Commonwealth Games in Glasgow next week. She lives in Stockport with her Olympic gold-winning cyclist boyfriend Jason Kenny.
"I train six days a week and it's pretty intense, with early starts and late finishes. So when I do have a rest weekend, I like to put my feet up. On Friday nights, Jason will cook. He's not bad in the kitchen, although more often than not we'll have his staple pasta and tuna dish. Then we'll watch EastEnders – I'm obsessed and can't miss an episode!
"I like to be in bed by 10pm. I get grumpy if I haven't had a good 10-hour sleep. In an ideal world I'd have a lie-in, but our two dogs never allow us to sleep late. They're gorgeous little sproodles [a cross between a springer spaniel and a poodle] called Sprolo and Pringle and they're yapping and full of energy by 8am. So Jason and I will go for a cycle and they'll run alongside us around the country lanes near where we live.
"In the afternoon, we'll go over to Jason's parents' house. They'll make us bacon sandwiches for lunch and we'll stay for the whole afternoon. His dad makes a mean curry for dinner too and we'll watch TV. I love the Outnumbered box set, I find it hilarious.
"Sunday is a lazy day. We'll spend most of the morning in our pyjamas, before taking the dogs for a walk and then head over to our favourite pub, The Church Inn, Mobberley, for a roast lunch. Jason loves motor racing, so if there's a Grand Prix on TV we have to be back in time to watch it. In the evening, we'll relax with a film, but there are always arguments. Jason loves action films – I'd rather watch a romantic comedy. Then it's off to bed, as we'll both be up at the crack of dawn for training.
"I've a lot on at the moment, with the Commonwealth Games, and I'm taking part in the Prudential RideLondon event in August, too."