New Sherries arrive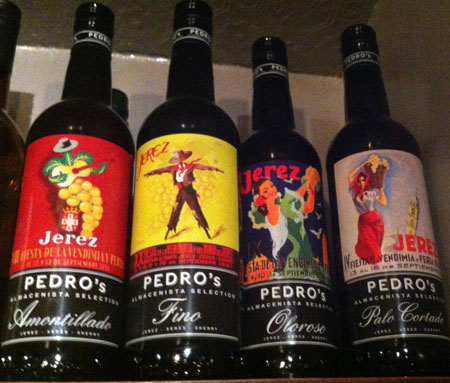 Four new sherries have arrived here at the Church Inn to help celebrate our 'Grape' range. With over 50 wines, 14 Ports, 10 Brandies and now 10 sherries the grape is truly celebrated here. Sherry is back in vogue and can be enjoyed with ice as an aperitif or even at different stages of a meal or you can enjoy sherry in your Bloody Mary instead of Vodka for a far more classic taste.
The first of our new sherries is Pedro's Fino which is bone dry, the Intense floral character is complemented by almond and fresh apple notes giving a fresh finish. An excellent match for our whitebait nibble or Crayfish Cocktail.
Then we have the Oloroso which is warm and rounded in style. Full-bodied, with a nutty complexity; expansive on the palate. Excellent with rich foods such as our Shepherd's Pie or our Pot Roast shoulder of lamb.
The third sherry is an Amontillado, the subtle and delicate bouquet, suggests notes of hazelnut on the nose, yet with light reminders of yeast but smooth on the palate giving a fresh finish. This is a dry to medium sherry and would work with our Pork Belly dish or indeed a cheeseboard.
Finally we have a Palo Cortado, a dry sherry from the Palomino grape. This wine combines the richness on the palate of the Oloroso with the delicacy on nose of the Amontillado. From the cellar of Cayetano del Pino, this is a truly magnificent example of the style and would work wonderfully with our Duck main course.
All these sherries from Jerez have wonderful labels that are full of colour and atmosphere. So maybe as the weather gets warmer you can enjoy a cool Fino on the terrace here at The Church Inn!!