Tatton Brewery Boys drink lager!!!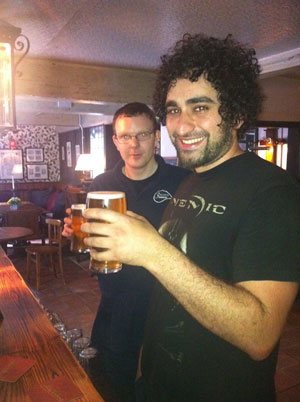 Yes it is true…the boys from Tatton Micro-brewery drink lager too!!! The 'Tatton Two' as they will be known, rocked up to the new Church Inn having dropped off one of our new house ales which is to be called Ale'Alujah (see badge).
Their curiosity got the better of them and they slipped in to the pub to have a good look around, then low and behold next minute they were caught on camera sipping our new English 'craft' lager called 'Freedom Four'.
Now these are ale enthusiasts at their best but they were on the fizzy stuff for sure!!! When caught in the act they declared it was because it was English and crafted!! Fair enough but we couldn't resist getting a shot of them, glasses in hand.
We also celebrate the emergence of English craft beers with our Titanic Stout which is a really good 4.5% porter in keg format. The other house cask ale we offer is in honour of Mobberly'ite Climber George Mallory…know as Mallory's Mobberley Best a lovely 3.9% session ale from Dunham Massey Brewery.
So take a leaf out of the 'Tatton Two's Book and come and have a pint!!!
There's something English for everyone!!