Thank you to our 'Festive Walkers!'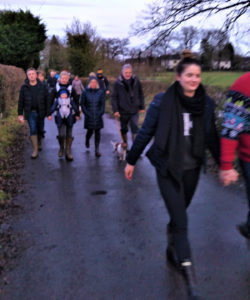 The annual 'Church Inn Festive Ramble for Charity', took place at 2pm on Saturday 28th December. Thankfully the weather was dry, clear and relatively mild, but there was some serious mud to contend with! We were led by Brian, a true rambler, who had researched the walk we undertook on our behalf. Tim our owner also took part to ensure all made it safely through a challenging (only because of the mud) but enjoyable walk.
Big thanks to Brian, it was a really good 3 miles of fun. A massive thank you to all that took part for the charity. We had around 20 walkers, with two babies strapped safely to parents and 7 pet dogs on leads. Everyone made it and within 1 hour and 40 minutes everyone was back safely at the Church Inn for a mulled wine on the house.
On the day we raised in excess of £150 for the new Christie's Hospital in Macclesfield. Once again thank you to all. It was lovely to catch up with everyone!
See you next year! When we will be doing the walk on the Bank Holiday (Boxing Day) on Monday 28th December 2020. See you all there.