The new Church Inn opens its doors at last!!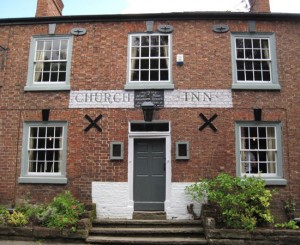 Yes after 8 gruelling weeks, the longest of any restoration we have done, the new Church Inn re-opened its doors on Wednesday19th June 2013. The pub is truly restored beyond anything we could have expected and anyone that knew the pub before will appreciate the effort of everyone involved in this re-build job.
After being acquired way back in January, in a near derelict state, by Tim Bird and Mary McLaughlin this Grade II listed pub is now fully restored and refurbished offering great food in an old 'Country Tavern' environment. The pub has a main bar with intimate small dining rooms. There is a 'boot room' for a 'muddy boot' pint of ale and a private dining room upstairs with a smaller 'chefs library' dining, or indeed, meeting room, adjacent. There is now a new sunny garden to the rear of the pub, snaking down to one of Cheshire's oldest bowling greens. The hedges have been reduced to reveal wonderful views across farmer's fields from the rear with wisteria growing elegantly above. There is a summer dining terrace to the side of the pub which is now enclosed and secluded with lovely views of St. Wilfrid's Church opposite. WE are truly in the heart of some of Cheshire's most beautiful countryside.
The Church Inn is a traditional yet stylish 18th Century country pub located on the edge of Mobberley, a short distance from the village cricket club for whom a 'cricket corner' of interest has been added to the bar. The pub has been wonderfully restored and its grand history has been truly revived.
In 1715 the pub was actually called the Bulls Head and changed its name to the Wright Arms some years later, mainly because there was a second pub in Mobberley called the Bulls Head already!! Ironically the Church Inn is now the 'sister pub' of the award winning Bulls Head! The name was then changed to the Church Inn because of it's proximately to the village church.
Freshly cooked food is a massive part of the new Church Inn, all prepared by the excellent team of chefs developed through the kitchens of Tim and Mary's other pubs. Such dishes as Roast corn-fed Chicken with smoked mash, summer vegetables, griddled baby leeks and tarragon gravy or Gressingham Duck Breast, with herb polenta, Winchester cheese and caramelized beetroot or the Cheshire Farmed Lamb Burger with Anglesey Feta and caramelized onion chutney, pickled cucumber salad and chips get the taste buds tingling.
There is a 'communion' of wines celebrated within the pub featuring a list of fifty or so wines from 'old world' classics to the 'new world' innovations with a few unique additions from as far afield as Mexico and Israel.
The Cask ales are from within a 15 mile boundary as well as one pump dedicated to craft ales from around the country, English Stouts and craft lagers differentiate our offering further.
We look forward to welcoming you soon.